STATISTICS:


High point: 5565 ft
Low point: 2454 ft
Total Length: 8.5 Miles
Effective Length:16.2Miles
Horses Perimiited: YES
Bicycles Permitted: NO
Motorcycles Permitted: NO
Seaons: Summer,Fall
Text Source:Cle Elum Range District Trail Guide

click on map to zoom in for trail location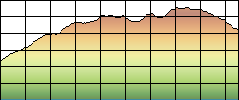 TRAILHEAD ACCESS: From Cle Elum and/or Roslyn, take State Highway 903 north to Salmon La Sac then turn left across the Cle Elum River to FS Road 4316-111 and follow it (0.5 mile) to the trailhead. It is also the trailhead for Cooper River Trail #1311 and Waptus River Trail #13 10.
PARKING AND FACILITIES: Facilities at trailhead include parking, stock ramps, and pit toilets.
TRAIL: The first 2.5 miles is uphill and fairly steep as the trail follows the ridgeline, passing through trees and open areas and over rocky bluffs. Past the 2.5 mile point, the trail runs along the north side of the ridge, going down into and up out of several basins; it is often steep. Diamond Lake is in the second basin at 4.2 miles and is the only constant water source along the trail (treat before drinking). The trail passes through two additional meadow basins before hitting the ridgetop again at 6.45 miles. Just beyond that, the old Pollalie Lookout site provides good views. The junction with Tired Creek Trail #1317 is just past that. From there, the trail descends through old-growth forest to Waptus Pass and the junction with Waptus Pass Trail #1329.
SETTING: Ridgetop, high mountain lake, meadows, old-growth forest.
OPPORTUNITIES: Hiking, horseback riding, scenery, photography, wildflowers, hunting, fishing, camping.
OTHER TRAILS: Tired Creek #1317, Waptus Pass #1329.
return to Cle Elum Home Page
Gregg Petrie ©2000