STATISTICS:


High point: 4300 ft
Low point: 2980 ft
Total Length: 6.5 Miles
Effective Length: 9.8 Miles
Horses Perimiited: YES
Bicycles Permitted: NO
Motorcycles Permitted: NO
Seaons: Summer,Fall
Text Source:Cle Elum Range District Trail Guide

click on map to zoom in for trail location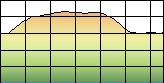 TRAIL: The easiest access to this trail is from its junction with Pete Lake Trail #1323. From this point, the trail runs through a flat area covered with old-growth forest before heading uphill towards the pass. After 0.75 mile of switchbacks, the trail hits gentler t~rrain and runs uphill along the mountainside through smaller trees. It crosses Escondido Creek just before its junction with the Escondido Lake Trail #1320 at approximately the 2 mile point. From there, the trail continues up through more scattered trees and meadows for 0.5 mile to the junction with the Waptus Burn Trail #1329.3. The trail flattens out and enters large, grassy meadows before intersecting with Pollalie Ridge Trail #1309 at the 2.8 mile point, which is the summit of Waptus Pass. From here, the trail continues to pass through meadows and trees before starting the descent towards Waptus Lake. At about the 3.5 mile point, the trail begins a series of switchbacks down the steep mountainside for almost a mile. The switchbacks end near the bottom and the trail winds through old-growth forest to its junction with the Quick Creek Camp Trail #1329.2. This trail is a short (0.25 mile) access trail to several campsites along Waptus lakeshore. The main trail continues along the south bank of Waptus River to a junction with the Waptus Horse Ford Trail #1329.1. This is another access trail that uses the old ford across Waptus River and goes about 0.5 mile to a junction with Waptus River Trail #1310 near Waptus Lake. The main trail goes another 0.1 mile to its end at the junction with Waptus River Trail #1310. Water is available at two creeks near the Escondido junction and at creeks near the summit.
SETTING: Old-growth forest, meadow, creek valley, river, lake.
OPPORTUNITIES: Hiking, horseback riding, scenery, wildflower viewing, photography, berry picking, hunting, camping.
OTHER TRAILS: Pete Lake #1323, Escondido #1320, Waptus Burn #1329.3, Pollalie Ridge #1309, Quick Creek Camp #1329.2, Waptus Horse Ford #1329.1, Waptus River #1310.
Gregg Petrie ©2000