STATISTICS:


High point: 5800 ft
Low point: 4300 ft
Total Length: 6 Miles
Effective Length:9.4 Miles
Horses Perimiited: YES
Bicycles Permitted: NO
Motorcycles Permitted: NO
Seaons: Summer,Fall
Text Source:Cle Elum Range District Trail Guide

click on map to zoom in for trail location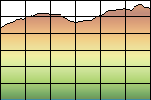 TRAILHEAD ACCESS: This trail has no trailhead. It is accessed from Trail Creek Trail #1322.
TRAIL: From its junction with Trail Creek Trail, #1336 heads steeply uphill through forest for about 1 mile. Then it begins to curve around the mountainside with a gentler uphill slope. At the 1.5-mile point, the trail passes through a couple of small meadows and begins a general downhill trend towards Goat Creek. It passes through sparse forest and meadows and after approximately 1.5 miles comes to the meadow flats along Goat Creek. From here, the trail continues slightly uphill through meadows, groups of trees, and small bluffs until it leaves the creek and heads up and over a small spur ridge to Michael Lake at 4 miles. At the lake, the trail forks, and the main trail turns right across the outlet stream. From here to Lake Terence, the trail is designated hiker only. From Michael, it heads up a steep ridge and then down along the mountainside through a small valley with meadows and patches of trees before climbing to another ridgetop with good views of the surrounding country. The trail then descends steeply for 0.3 mile through meadows to Lake Terence. Water is available year round at Goat Creek and at the lakes. Campfires are prohibited above 5000 feet.
SETTING: Old-growth forest, second growth forest, lake, stream, meadow, ridgetop, cirques.
OPPORTUNITIES: Hiking, horseback riding, scenery, wildflower viewing, photography, wildlife, berry picking, fishing, hunting, camping.
OTHER TRAILS: Trail Creek Trail #1322.
Gregg Petrie ©2000