STATISTICS:


High point: 5400 ft
Low point: 3470 ft
Total Length(from PCT): 3.4 Miles
Effective Length:6.7 Miles
Horses Perimiited: NO
Bicycles Permitted: NO
Motorcycles Permitted: NO
Seaons: Summer,Fall
Text Source:Cle Elum Range District Trail Guide

click on map to zoom in for trail location

TRAILHEAD ACCESS: This trail has no trailhead. It can be accessed from either Waptus River Trail #1310 or from the Pacific Crest Trail above Waptus Lake.
TRAIL: From the Waptus River Trail #1310 just above Waptus Lake, the trail heads straight uphill through old-growth forest. Past its junction with the PCT, the trail gets fairly steep. At approximately 1.25 miles, the trail becomes less steep as it heads northwest along the mountainside and passes through several meadows and belts of smaller trees. The trail then enters a relatively open area with good views of the surrounding mountains and Spade Creek far below. As it approaches the lake, the trail crosses some talus slopes and passes over small bluffs before entering scattered trees and meadows. Near the lakeshore, the trail splits, with a user built section heading off to the left to some scattered campsites on the bluffs. The main trail heads to the right and goes up and down some steep bluffs as it skirts the east shore of Spade Lake. It soon becomes narrower and fades out into a network of user paths to the shore and various old camping spots. Due to the fragility of this high altitude area, it is recommended that people camp away from the lake and avoid meadows and other sensitive areas. Water is available at a couple of small streams and at the lake. Campfires are prohibited in this and all areas above 5000 feet elevation in the Alpine Lakes Wilderness.
SETTING: Old-growth forest, meadows, rock bluffs, lake.
OPPORTUNITIES: Hiking, scenery, wildflower viewing, photography, fishing, rock scrambling, camping.
OTHER TRAILS: Waptus River #1310, Pacific Crest Trail #2000.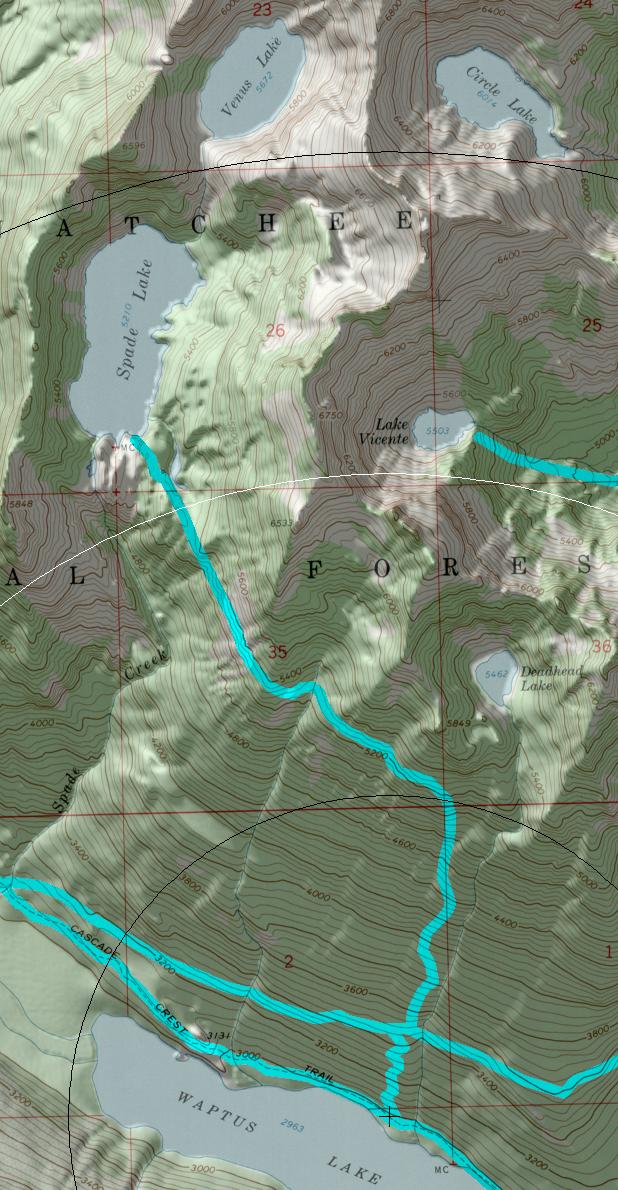 Gregg Petrie ©2000