STATISTICS:


High point: 6100 ft
Low point: 3390 ft
Total Length showen in profile: 11.2 Miles
Effective Length of prfile:18 Miles
Distance to Paddy-Go-Easy Pass: 3 Miles
Horses Perimiited: YES
Bicycles Permitted: NO
Motorcycles Permitted: NO
Seaons: Summer,Fall
Text Source:Cle Elum Range District Trail Guide

click on map to zoom in for trail location
(for context the map also shows part of the French Creek trail)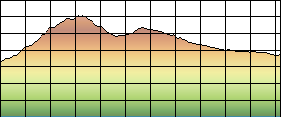 (3 Miles to Paddy-Go-Easy-Pass(the rest of the profile shows the French Creek Trail for context)

TRAILHEAD ACCESS: From Cle Elum and/or Roslyn, take Highway 903 north to Salmon La Sac and then turn right on Fish Lake Road #4330. Follow it up valley to the trailhead located approximately 1 mile past the Fish Lake Guard Station and on the right side of the road.

PARKING AND FACILITIES: There is a small parking lot with space for 5-7 vehicles.

TRAIL: After leaving the trailhead and crossing a small creek, the trail goes uphill along the mountainside and through forest and small brushy meadows. It hits the wilderness boundary at about 0.5 mile and soon begins switchbacking uphill. As it goes higher, the trees thin and the trail passes through more meadows along the steep mountainside. Near the ridgetop, the grade gets less steep and the trail winds through trees, meadows and rocks below cliffs to the right. It then arrives at the summit of Paddy Go Easy Pass. The trail continues on as a different trail on the Leavenworth Ranger District and a spur goes to nearby Sprite Lake. There is very little water available along the trail beyond the first quarter mile.

SETTING: River valley, old-growth forest, meadow, subalpine forest, ridgetop, bluffs.

OPPORTUNITIES: Hiking, horseback riding, scenery, wildflowers, photography, hunting, camping.

OTHER TRAILS: None.


return to Cle Elum Home Page
Gregg Petrie ©2000