STATISTICS:


High point: 5760.7 ft
Low point: 2950.7 ft
Total Length: 7.2 Miles
Effective Length: 9.1 Miles

click on map to zoom in for trail location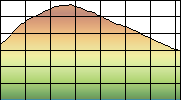 1564 French Ridge Directions: Drive East on Highway 2 over Stevens Pass (or west from Wenatchee) to Leavenworth. From the far west side of town turn south on Icicle Creek Road (USFS road 7600) and follow it to the end of the road to the Icicle Creek Trial head. Hike about 1.5 miles on the Icicle Creek Trail to the French Creek Trail (1595) trail head. Hike trail 1595 for about 3.6 miles to the French Ridge trailhead.
Gregg Petrie ©2000