STATISTICS:


High point:6150
Low point:3600
Hiking season: mid-June though mid-Oct.
Trail Length:7.0
Horses Perimitted: YES
Bicycles Permitted: NO
Motorcycles Permitted: NO
Map: Green Trails No. 209 Mt. Stuart
Text Source:Cle Elum Range District Trail Guide

click on map to zoom in for trail location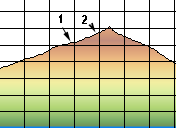 (1)1218 Junction
(2)Turn onto 1399
TRAILHEAD ACCESS:

TRAIL:This trail description assumes that two cars are available to allow the hiker to loop back from Iron Peak trail (#1399) trailhead to the original starting point at the Beverly-Turnpike (#1391) trailhead by car.
From Beverly-Turnpike (#1391) trailhead the trial starts follows an abandoned road for its first ½ mile and then climbs steeply up a clear-cut to quickly meet the Junction with the Bean Creek trail. Immediately after this junction comes a creek crossing (that can be an obstacle during the high waters of early summer). After less then 3 miles of both forest and meadows the trail joints with the Fourth Creek trail at a well defined camp site. The Iron Peak(1399) trail junction soon follows. Here the trail is well defined but it soon turns into a moonscape that uses cairns to mark the way. However, at this point the saddle of Iron Peak is in view and there is limited change of losing your way.
After reaching the saddle you are rewarded with views down the valley. If you are ambitious even better views of Mt. Stuart and Mt. Rainier are available if you scrabble up Iron Peak for better vistas.
After the saddle the trails enters a mixture of open spaces and trees that transitions into forest has the path nears trails end at road 9737.

TRAILHEAD ACCESS(from Iron Peak side):
PARKING AND FACILITIES: Parking but no facilities
Gregg Petrie ©2000