STATISTICS:


High point:6550
Low point:4280
Hiking season: late mid-July to mid-Oct..
Total Elevation gain: 2600
Total Elevation lost:600
Trail Length:4.4
Horses Perimiited: No
Bicycles Permitted: NO
Motorcycles Permitted: NO
Dogs Permitted: NO
Map: Green Trails No. 209 Mt. Stuart
Hiking time: 6 hours
Text Source:Cle Elum Range District Trail Guide

click on map to zoom in for trail location

(1)Longs Pass Trail Junction

TRAILHEAD ACCESS: There is no direct trailhead access. It is accessed from the Esmerelda Basin Trial (#1394) which if found by:

PARKING AND FACILITIES: In addition to both llot and roadside parking, stock ramps, pit toilets and picnic tables are also available.

TRAIL: From the parking lot follow the North Fork Teanway River along the Esmerelda Basin trial(#1394) for about ¼ mile to the junction for the Ingalls Lake and Longs Pass trial. Turn right at this junction and ascend steadily through the forests that gradually fades to open spaces with sparse trees. Along the way you will pass the trail junction to Longs Pass at 1.5 miles, and may be treated to views of Mt Adams, the Goat Rocks, and Mt Rainier to the south. At 6500 ft the trail reaches the boundary of the Alpine Lakes Wilderness on the ridge for a full view of Mt. Stuart. From here the trail contours above Headlight Creek Basin, a parkland with enchanting camps and cold steams, to THE LAKE.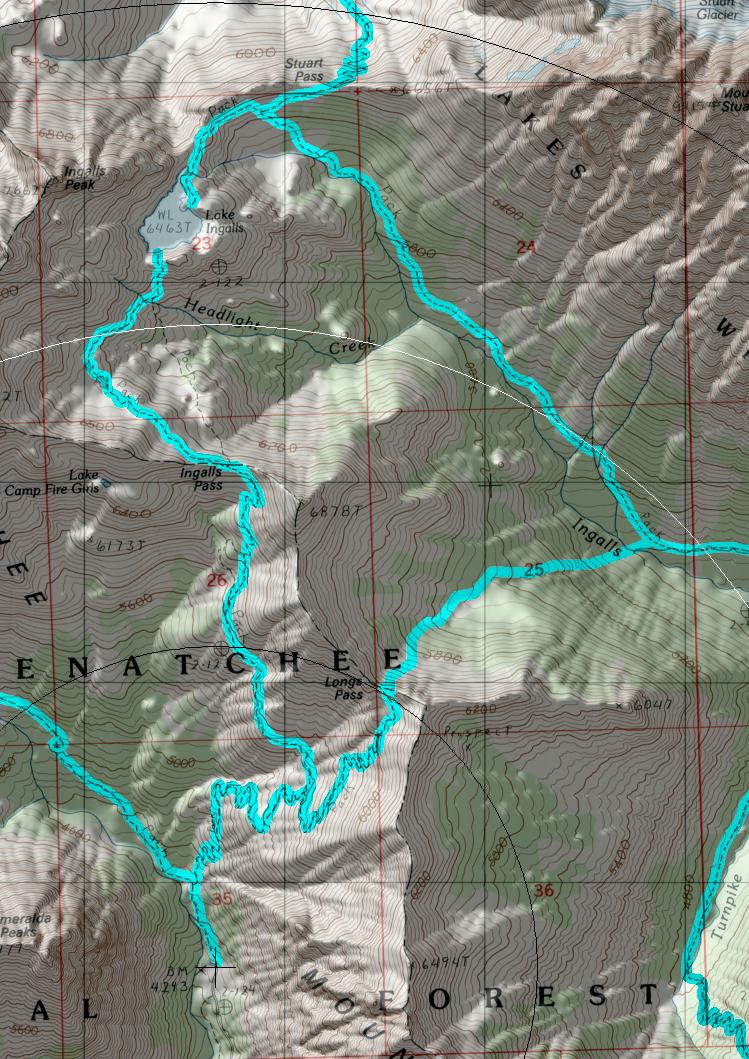 return Home Page
Gregg Petrie ©2000