STATISTICS:


High point: 6430 ft
Low point: 3800 ft
TotalElevation gain: 2630 ft
Total distance:9.8 Miles
Horses Perimiited: Yes
Bicycles Permitted: Yes
Motorcycles Permitted: Yes
Trail Difficultty:Difficult
Text Source:Cle Elum Range District Trail Guide

click on map to zoom in for trail location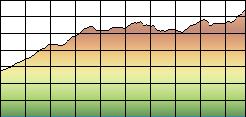 TRAILHEAD ACCESS: From Highway 970 approximately 8 miles east of Cle Elum, turn left on Teanaway Road, then left on West For Teanaway road, then right on Middle Fork Teanaway Road. Continue past the end of the county road (end of pavement) on to Forest road 4305-113. One quarter mile past the crossing of Middle Fork Teanaway river, the first right is where the trail Begins.
PARKIING AND FACILITIES: There is plenty of parking along FS Road 4305-113. The trailhead is unimproved and has no facilities
TRAIL: From the South, this trail climbs steeply to near the top of Yellow Hill. It then follows the ridgetops to Elbo Peak and is very rocky and narrow in places. From Elbow Peak it stays near the ridgetops and is very steep, narrow and rugged, end at Jolly Mountain, where it becomes the Jolly Mt. trail #1307. There is one water hole approximately 1.5 miles north of elbow Peak.
SETTING: Large old-growth timber south of Yellow Hill, open rocky ridgetops, meadows
OPPORTUNITIES: Hiking, horseback riding, motorcycling, scenery, wildlife viewing, hunting, solitude, camping OTHER TRAILS: Jolly Mt. 1307, Middle Fork Teanaway #1393. The trailhead for #1393 is .25 mile before the turnoff for this trailhead.
return to Home Page
Gregg Petrie ©2000